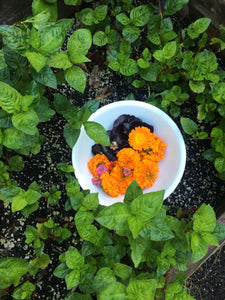 Sponsor BIPOC, low income, LGBTQ+, and disabled folk in the community with funds towards dye seeds and gardening knowledge. The history of farming and gardening has been riddled with racism and discrimination, as much of the farming industry was built upon slavery. From lack of land, lack of funds, to discrimination in the US Department of Agriculture in loans, grants, and support, farming for underrepresented communities continues to be inaccessible. Many BIPOC have historically been separated from farming due to this, and we would like to offer a way for those interested to be able to grow their own dye gardens.
Please note that due to a weird shop setting, you will be charged the smallest amount for shipping. Due to the likelihood that we will have to ship items to the recipients, we have decided to keep it as is. If you would prefer to not pay for shipping, you may send funds with a note via Paypal to bedheadfiber@gmail.com 
Interested in being sponsored? Reach out to hello@bedheadfiber.com and tell us a little about yourself!