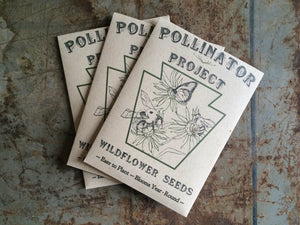 With all the environmental threats to their habitat and survival these days, honeybees and other pollinators need all the help they can get in order to survive. You can make a difference by planting this mix of annual and perennial wildflowers in a plot of soil, planter, window box, or even just distribute them wherever you like -- in an abandoned lot, on a street corner -- any spot with soil and sun.
Pollinator Project was created by a budding beekeeper in Philadelphia as an effort to educate people about our pollinator friends and by taking action to make their habitat a more viable place. A portion of the proceeds of Pollinator Project seed packet sales will be donated to invertebrate conservation efforts. Keep an eye on our
website
for updates on these efforts, donations, events, and more.
Instructions: For best results, evenly distribute seeds over prepared soil, and directly rake seeds below the surface, no deeper than 1/8 of an inch. Keep the soil damp, not wet to encourage germination. For a more casual approach, simply sprinkle seeds evenly over a surface with plenty of soil and sun. Distribute or plant seeds after the weather reaches 55 degrees. Each packet contains approximately 500 seeds.
Note: All of these flowers in this mix love sun, so avoid too-shady areas. Easy to grow and maintain in the Eastern region of the US of A. Seeds are non-GMO.
Types of flowers to expect from this seed mix:
Myosotis sylvatica - Forget-Me-Not Eschscholzia californica - California Poppy Aster novae-angliae - New England AsterAgastache foeniculum - Anise Hyssop Linum perenne - Blue Flax Monarda fistulosa - Bergamot
For a full list of flowers in this mix, shoot us an email!
This is a TRIPLE packet of wildflower seeds. They make beautiful and wonderful gifts!